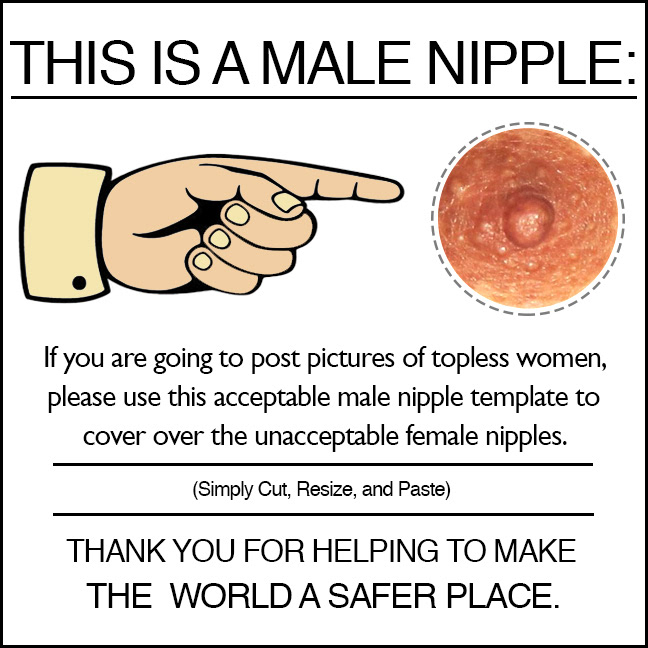 This is a remastered, one of a kind, 1/1 edition NFT, 648 x 648 pixels. This meme launched an international conversation about bodily autonomy, gender equity, trans rights, objectification, and cancel culture. 
Hopefully, Foundation will release the NFT soon...it's 'under review' right now. 
I would love for this to go viral - again! The digital male nipple pasty was a gesture designed to fight the sexist, transphobic, anti-artist sentiments of the Facebook and Instagram 'community guidelines' that prohibited the display of 'female' nipples (remind me how one can tell someone's gender by looking at a nipple?).
I first posted in June 2014. The image and my text went viral in July 2015, and has been circulating around the world ever since. The first week of going viral, it was shared more than 20 million times. The male nipple pasty has been included in 5 books on art/internet history, and has been written about in over 75 articles. (Visit the press page on this site for a full list).
It's Women's History Month - what a better time to make history with this feminist, anti-censorship meme NFT?? Please help me spread the word and encourage bidders!
If this NFT earns a notable amount, it is my hope that I can use this money to buy land (probably in New Mexico) and start a permanent, all-inclusive feminist summer camp and feminist mountain school. You are all invited.
Don't you think that this should be in the 
MoMA The Museum of Modern Art collection? They already have the @ symbol, and the first emojis by Shigetaka Kurtita. The Male Nipple Pasty should be next! Or, maybe the National Museum of Women in the Arts? Or, perhaps Mark Zuckerberg should add it to his collection
Find me on Facebook @Micol Hebron
Instagram: @Unicornkiller1
Discord: thepregnantseahorse
Foundation: @malenipplepasty